Hi Everyone "TGIF"...seriously, I hate when people say that, but it is so necessary. Especially after this week, The boss has been out of the office for the week and it has been crazy! I haven't had a moment to blog or do anything other than work (What the hell...NOT Fair!) haha.
Anyways, at least this week seemed to fly by. The bad news is that my old boss at the country club I used to waitress at asked me to work a private event this weekend because they needed help, so I will be working on Saturday night...booo! Maybe the event will get cancelled due to the snow storm? I could actually use the extra $$ though!
Anyways...Last night I finally made it to the gym with my BFF Han. We did a quick workout and I was home in time to watch American Idol. Unfortunately, last night's episode was basically about NOTHING. We got to see the performers try to find groups to practice with and watch the PLAGUE spread from person to person...seriously? Was everyone sick last night?? One of the girls was sitting with her group singing with a trash puke bag in front of her...I'm sorry, I understanding following your dream, and that it's a chance of a life time, but really?? Go upstairs and nap for a few hours and have the group teach you the rest when you come back...that's not dedication to me...just plain unsanitary!!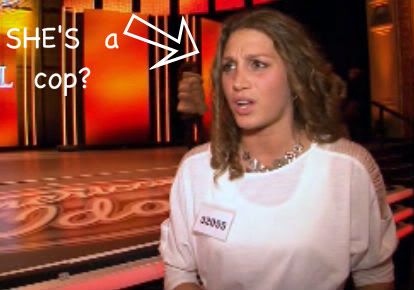 .I can't believe this girl is a cop...She was running around trying to get people to sing "Joy to the World"? and being so unbelievably rude to everyone...I'm so glad the other 2 people ditched her ass!
Secondly...this girl in yellow was throwing a hissy fit because no one wanted to stay up until 5am practicing...I guarantee she is the worst one of the group and won't make it through.
The whole show just annoyed me in general last night...right when the groups went to start singing the show cut off and started showing the previews for next week.ARRGGHhh...I was pre-occupied doing my hair and did not notice that the show was only 1 hr.
I am looking forward to actually seeing the contestants sing next week!

enjoy your weekend BABES!