Hi People...I feel like it was just Monday? How about you? This weekend went by way to fast, but it was Sooo relaxing...
Friday- S and I literally came home ordered delivery and passed out by 10pm! We were both exhausted!
Saturday- We woke up, got some D&D and headed to our massage appointments!
S has been going to get massages from this place in our hometown for a long time now, and I just recently started joining him because my first massage was AMAZING. The place is called Sacred Space Healing and is owned and operated by a lady named Michelle.
Michelle specializes in
Therapeutic Massage, Hot Stone, Reiki, Energy balancing &Ange/Tarot card readings.
See the above picture...the one with the wax-like looking stick? Well, that is a special present that Michelle (she love's us!) gave S and I. So, this is a long Crystal that is used for cleansing people's Aura's- known as a "Quartz Wand". It's pretty neat because when someone make's figure 8's with the crystal in front of you, you can almost feel it pulling negative feelings away from your body.
Anyways...
Michelle suggested that she do a Reiki session with me this weekend when we got there (I immediately think the worst and start thinking that she could feel the negative energy coming off of me as soon as I enter the building).
For those of you who don't know what Reiki is you can read about it here.
She also used a technique on me known as smudging.
Basically, these are different ways of "cleansing your body" from negative thoughts and feelings.
The process took a little under an hour and I think I really "freaked" her out with the deep trance that I went into. Michelle said that she had to shake me a few times because I went into such a deep trance and she also said that I let go of a lot of Grief that day.
She gave me her cell phone number and told me to call her if I started having an emotional afternoon..."Good Grief I thought! What is going to happen to me this afternoon??"
Lucky for me, I left the appointment and felt unbelievable relaxed and care free!
No emotional melt downs later in the afternoon...Thank God!
I would definitely do this again and/or recommend to anyone!
Later that day one of S's friends randomly asked if we wanted to go to the aquarium, so of course we said YES!
After we left the aquarium, we went to get some dinner with friends of ours and we were in bed by 10pm!
Sunday I woke up and felt awful (that's what I get for not drinking...? I probably would have felt better if I had gone out). I had a sore throat, was all stuffy and I look like the child on the Puff's commercial.
(I'm on the above left picture)


S and I were supposed to get breakfast with my parents, but I had to cancel = (
S was going back to our hometown anyways to help his sister and brother in-law move into their new house, so he left for the day and I went back to bed...
...but, a few minutes later S came back home and surprised me with all of my favorite things and some medicine...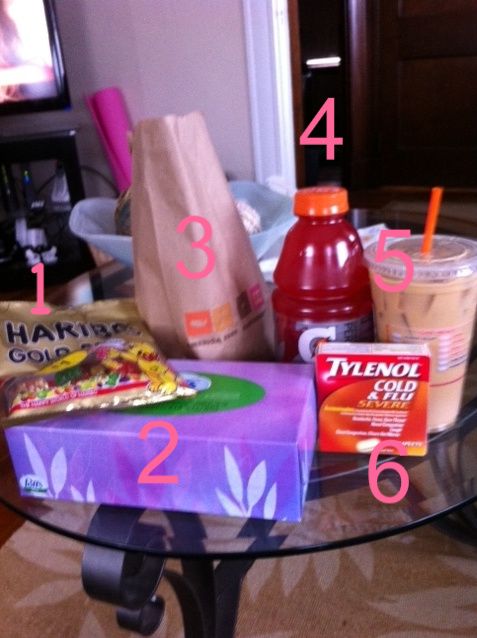 3. Everything Bagel toasted with veggie CC