How was everyone's weekend?
Mine was super relaxing and consisted of:
The Hunger Games, Reiki, Shopping,
Crafting & Cleaning!
Friday the girls & I went to see The Hunger Games and it was just as amazing as I thought it would be!
They cut out a few parts that were in the book, but it was still awesome!
If you have not read the book, I think that the movie might be a little confusing, since they don't go into extreme details.
Here are a few pictures of the surprises that I made for the girls:
Hunger Games Survival Kit's
Inside I put snacks for the movies that consisted of all things Katniss could have used throughout the Game.
To name a few:
1. A Bottle of Water
2. Pop Rocks
3. Atomic Fireballs
4. Lifesavers
5. Breath mints
6. Smarties
7. Chapstick
8. Chocolate Coins
9. Sunflower Seeds
10. Random Candy
...I'm such a dork! hehe...the girls were super excited though, they
loved
them!
Saturday
morning I woke up and went to my
Reiki
appointment with
S
. It was AMAZING! We finished a little early, so Michelle "read my cards" and told me that I need to "simplify my life" a little more....
apparently I didn't listen, because when I left my appointment, I immediately went to Target and bought $100.00 worth of crap...Oops...I couldn't resist!
Once I got home I cleaned my entire house, watched TV and decided to craft it up a little bit!

Here's a few wreath's I made this weekend:
I'm not particularly proud of the way this wreath came out...I think that the yellow lily's look a bit too fake and the tiny easter eggs are a little tacky!
Oh well...I needed something on my front door for the time being, because it was looking really sad...
I looked at the Christmas Tree Shop & Michael's for a cute wreath, but I just couldn't find anything that I was in love with!
Here is another wreath that I made this weekend: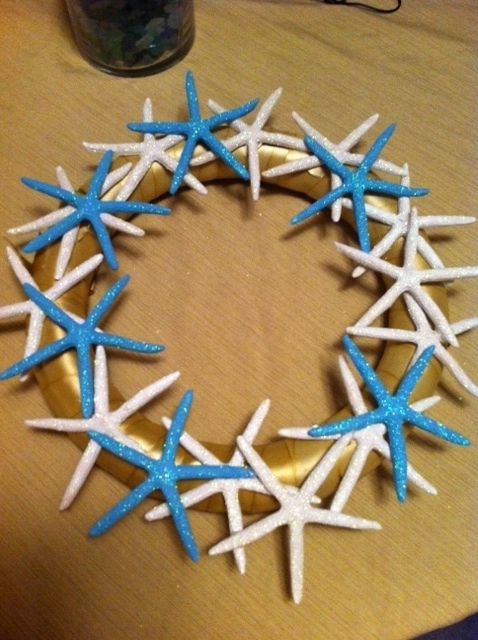 I wish that I could take the credit for this Starfish wreath idea, but I got this idea from the cover of Coastal Living Magazine.
She has some Super cute idea's!
How was your weekend?