Hi Everyone!
Let's Link up with Me, Myself & I for
TROPICAL TUESDAY'S!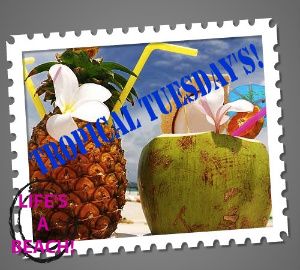 Personally, I
like
LOVE
all things that are Tropical,
so weather whether you want to share pictures from a past or present vacation, or even just your favorite TROPICAL pins and/or pictures, we don't care! Let's share
fun Tropical things and get in the mood for warm weather!
Today I am sharing pictures from my last tropical vacation to Punta Cana!...
But first, since I am on the topic of Travel, I am linking up with Travel-Lovin Megan over at
Semi-Charmed Kind of Life
for Travel Tuesday's!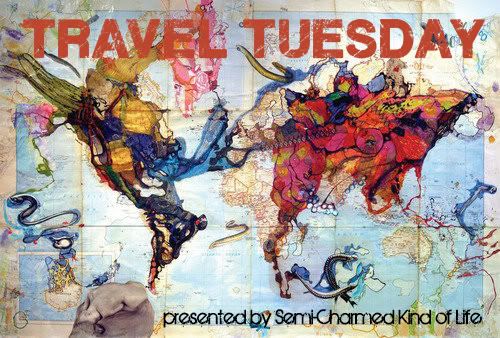 Today, Megan wants to know how we spend our time during a flight.
That's easy!
a little....
a little...
and a little...
Before you know it, you have safely reached your destination!
How do you pass the time during a flight?
Now back to
TROPICAL TUESDAY'S!
History
Punta Cana is located in the eastern most province of the Dominican Republic and has an estimated population of 100,000. Punta Cana is mainly known for its beautiful beaches and warm tropical climate. The peak seasons to visit are from December to April (I went in October and the weather was gorgeous!)
My Trip
My parents planned a family trip to the Dominican as sort of our last "family only vacation".
My sister is newly engaged and just bought a house and I'm always busy with work, friends & S, so it was great to hang out as a family with NO boyfriends/fiance's and friends (although I did miss them terribly! = )
Our resort was all inclusive and had plenty of fun activities and great drinks!
Unfortunately, the food was awful and reminded me of my own cooking! Yuckk... needless to say, I lived off of French Fries and Dominican Beer all weekend (hey, im not complaining!)
Mom & I
Daddy & I
I got to hold REAL Parrots! (Don't mind my hair)
...and a monkey!
My parents surprised us by renewing their vow's on the beach! It was awesome!
Dominican Cristal! Yumm
A couple pieces of advice...
1.
I wouldn't recommend leaving the resort, unless you know where you are going and/or the place you are going was recommended to you by a reliable source.
My Mom and I left the resort one day to go shopping at a local outdoor mall and I HATED it! Everyone grabs you and tries you to go into their store to buy their things. It was really sad, but I was getting really bad anxiety and made my mom leave without buying a thing!
2.
Bring lots of bottled water & granola bars incase the food is no bueno. Every member in my family ended up getting really sick at the end of our trip...let's just say I couldn't drink an iced coffee for a month after our trip, because the thought of it made me sick! (That is unheard of for me considering I get a Grande Starbucks EVERY morning!)
I've heard mixed feedback about getting sick in the Dominican, so I think it all depends strongly on where you stay!
All and All...we had a really good trip! The weather was warm and the ocean water was even warmer! All of the employees at our resort were so nice and they were all such hard workers!
If you're heading to the Dominican and want some more info, please feel free to message me!
..and don't tell anyone about this picture!
Sexy & I know it...
Let's Link Up!!
xoxo