Happy Thursday Everyone! Did this week fly by, or is it just me??
Today I am linking up with Sweet Green Tangerine to share some of my favorite childhood books!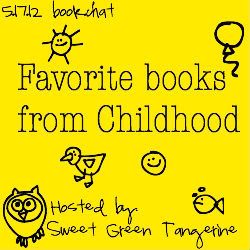 A few childhood books that I remember reading with my Kindergarten class were:
This book is so cute and the illustrations are phenomenal!
Looking back, "The Giving Tree" is definitely a favorite of mine! The Giving Tree actually caused a lot of controversy, because some readers believe that the boy is selfish in his demands from the tree, but most believe that this story can be viewed as a comparison between a parent and child....I think it's a cute book!
My parents used to read me this book- "Five Minutes' Peace" by Jill Murphy. The book is basically about a mama elephant who wants Five Minutes' Peace from her Children...Ironic that my parents used to read this to me?...I think not!
....and who could forget the lovely Amelia Bedelia series about a clumsy maid that can't seem to do anything correctly.
As I grew older, my reading level "matured" and I graduated into reading useless chapter books like the ones below:
Pee Wee Scouts Anyone?!
Who didn't love a good Goosebumps book??
I'm also pretty sure I read ALL of The Baby-Sitters Club books!
Who wants to hear a traumatizing childhood story of mine??
Too bad...Here goes...
In elementary school, we used to take a class trip down to the library once a week and we all got to pick out a book to bring home. We had a nasty, scary librarian at the elementary school that all of the kids were petrified of and if you forgot to bring your book back the next week, you had to sit at the "bad kids table" and you weren't allowed to take a book out until you brought the book back!
Well, one week my class went down to the library and the librarian told me that I had to sit at the "bad kids table" because she had not recieved one of the Baby Sitters Club Book back yet....
WHAT!? I thought to myself....ME!? I KNEW I brought that book back and was damned sure of it...
Well, being the shy, grade school student that I was, I didn't argue and sat at the "bad kids table" for a MONTH!! A MONTH! People!!
Do you know how awful it is watching your friends pick out fun, new chapter books every week, while you get nothing!?
Pretty Awful people! Clearly still traumatized...
Anyways....Flash forward One month later and the librarian came up to me at the "bad kids table" and whispered:
"Kristen, you can take out a book today...I found the book hidden on my desk"
No Apology or ANYTHING!
In the words of Stephanie Tanner:
Flash Forward to what I'm currently reading...
Yowza!!
I think it's safe to say that my reading level has matured a little bit....
Happy Thirsty Thursday!