Remember yesterday I posted some pictures of my "pool party" that I had on Sunday? Well, I am being sarcastic when I say "Pool Party" because there were probably only about 10 of my friends at my house that day...trust me, I've had Shit Rippers at my parents house before...
So, my friend Ashley shows up at my house on Sunday and our conversation went a little something like this:
ASHLEY: "Kristen, what is the ladies problem across the street?"
ME: "She is legit crazy....why, what did she do now?"
ASHLEY: "Oh, nothing, she asked me to move my car, but was really rude about it and said that she was having people coming over later..."
ME: "That's funny, because no one EVER comes to her house and I know that she is not having people over today".

Needless to say, I began telling everyone stories about how crazy the women is, like for instance the time that she told my 110 lb mother that it looked like she was putting some lbs on...
OR
the time that she left a nasty note on my friends car at my graduation party telling her that she needed to move her car because the mailman couldn't deliver the mail.... (Yes my graduation party was on a Saturday afternoon)....
The mailman had already come and mail doesn't come on Sunday's...
OR
the time that she called the cops on my boyfriend to tell on him when he was plowing my driveway and was working for the town...(did I mention he had already been out the entire night plowing for the town and the storm was over?)
Not to mention the fact that she is on "disability", but she can constantly be seen lifting heavy items out front of her house on a daily basis....she is a hoarder....
OK, I'm done, the women is bat-shit crazy and she has had MUCHO problems with the other neighbors also.
Anyways, so an hour later, my friends husband decides to go to the liquor store and when he comes back, he starts telling me how the Crazy Neighbor moved her car into the street and put a tupperware bin and a bicycle in front and back of her car so that no one would park there....
CRAZY Right!?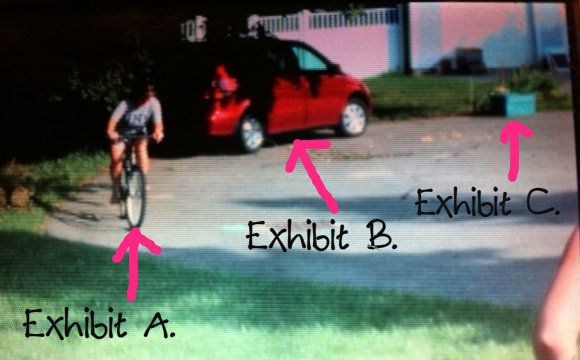 NEWS FLASH: You don't own the street and my parents have lived here twice as long as you and never had any problems until your dumb ass came around...
Yes, obviously after a few beers, my friend gets beer balls and we dare her to go ride the bike, so of course she does it! haha
Did I mention the bike had a flat tire and a broken chain?!
after we had our fun, my friend put the bike back and we went back to our little pool party
shenanigans.
When my parents came home I was telling them about how the lady moved half of her belongings into the street (#sarcastic) so that no one else could park there and that no one ever came to her house that day...
My parents
were really amused by the story and we laughed again at the fact that she is
crazy and talked about how we feel bad for her son, Ryan, who is 8
.
Anyways, apparently the bike was still in the middle of the street last night when my dad got home from work, so I get this text from my dad at 9pm last night:
I immediately called my parents house and my dad said that he walked the bike to the end of the street and slapped a "FREE" sign on the bike!
Hope they weren't planning on fixing the broken chain and flat tire...
That's what you get for being a crazy bish and leaving your shit in the middle of the street...
Also, Steve is working the PGA Tournament in South Carolina and he knows I have a huge crush on Ricky Fowler, so he just sent me this text that made my life...
haha