Last night I threw a small surprise engagement party for my
bestie
.
She thought she was coming to pick me up for dinner and when she arrived I had all of the girls at the house!
We had a lot of laughs, wayyy to much food and a little too much wine.
Well worth it!
Today I am linking up with
Ashley
for Friday Letters, so here goes: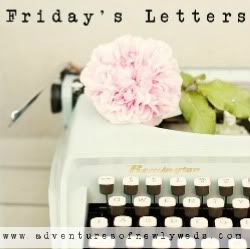 Dear Apartment,
After last nights festivities, please clean up yourself.
Dear Halloween Costume,
Please make yourself.
Dear Vacation
, Please hurry the F up!
Dear Starbucks Card
, What did I do with you!?
Dear NHL lockout
, please end, so I can watch lucic's cute little but skate around.
Dear ISO Hair Straightener,
Please get here sooner rather than later.
Dear Blogging Friends
, Please order the ISO Hair Straightener through my
link
. This is an awesome deal through Living Social! A hair straightener that normally costs $
300
can be yours for only $48!!
Plus they have lots of cute colors & designs to choose from!
I was a little boring and ordered the white pearl color. Have you ever seen a white hair straightener?
Me neither!
Enjoy your weekend babes!