I am certainly no makeup professional and I'm not going to lie, it takes me a total of 5 minutes to do my makeup in the morning....MAX!
Is that bad!?
Should I be spending more time doing my makeup?
Maybe I'm just naturally beautiful....!? hahaha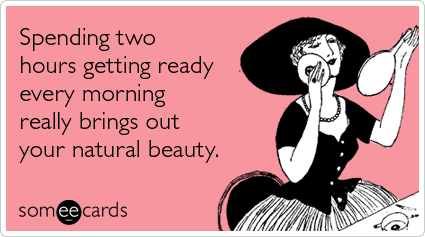 I typically don't spend a lot of money on makeup either!
In the Summer I practically wear no makeup, since I am at the beach all day, everyday.
Here's a look at my beauty routine EVERY morning. I rarely ever change things up and I certainly don't change my look from evening to night....
Is that bad!?
Do I need a makeover?
Do you change up your "beauty routine" ?
How long does it take to complete your makeup in the morning?
Fun Fact of the Day: For someone that does not wear/switch up their makeup routine, you will be surprised to know that I worked for Estee Lauder in College.
Did you gals know that Estee Lauder owns Clinique and that Estee Lauder was the first ones to start the whole free gift with purchase concept?